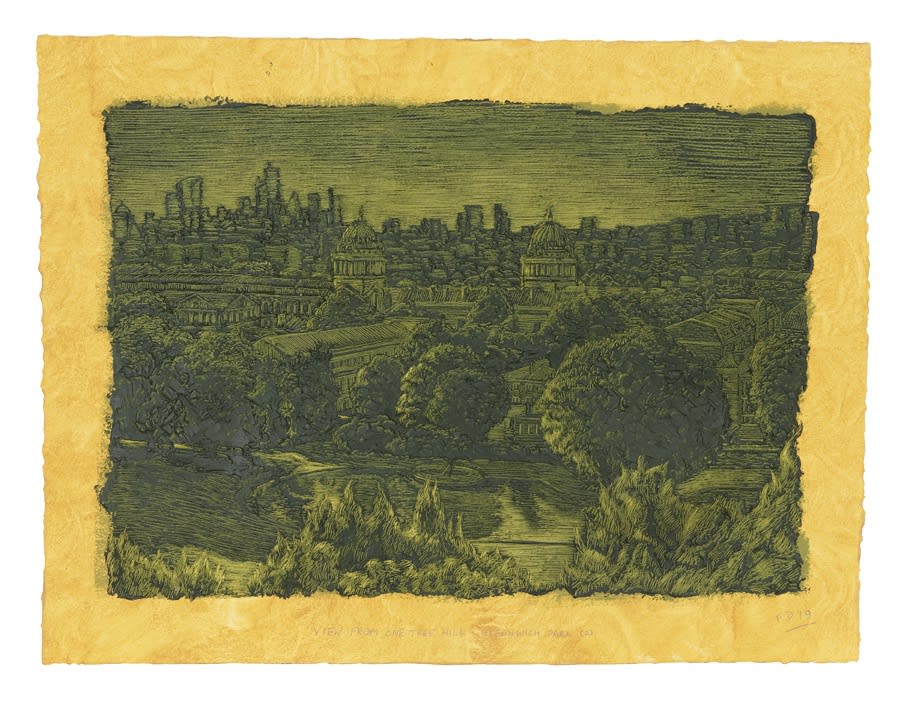 Fritz Duffy's Towards Twilight showcases the artist's 'plein air' explorations of landscapes in oil, ink, and etching. The exhibition is a result of more than four years of working in four different locations, initially at the Malvern Hills, then at Dungeness and followed by the River Thames and at Greenwich Park. Towards Twilight is the artist's 6th solo exhibition and will be held in the Gerald Moore Gallery's first floor space from 30 March to 15 April 2023.
Duffy's practice had always been studio-bound up until 2016 when an invitation by artist Tim Cousins along with a group of artists to work outdoors in the Malvern Hills and Dungeness. Initially a challenging exercise, after several trips of recording aspects of the landscape either with the group or individually, Duffy managed to develop his own visual language that expresses his emotions towards the different scenes.
After this, he embarked on his own study of the River Thames, the stretch of water between Deptford and Woolwich and Greenwich Park, which are local spots for him. Duffy's works on handmade Khadi paper would involve him 'tinting' the paper with a base colour before applying a thick monochrome skin of oil paint. He would then use a palette knife to scratch into the paint surface and 'reveal' lines, shapes, and images. Other works in the exhibition include etchings, oil on canvas and photopolymer, pen and ink wash on paper.
Exhibition runs from 30 March to 15 April 2023.
The opening event will be held on Thursday 30 March 2023 from 4 – 8pm. Light refreshments will be served.
The exhibition is open every Saturday 10am to 4pm until 15 April 2023 or by appointment for other days.
To book a visit (not compulsory), lease click on the link below or email info@geraldmooregallery.org.

Fritz Duffy was born in Uxbridge, Middlesex in 1952. He studied at Goldsmiths from 1971 to 1975. Recent exhibitions include Dungeness Desert, Horsebridge Art Centre, Whitstable in 2019, Malvern, On a May Morning, Art Hub Studios, London in 2018 and 308 Years, Thames Side Gallery, London in 2018. His work is in the collection of Gonville & Caius College, Cambridge. He lives and works in South East London.