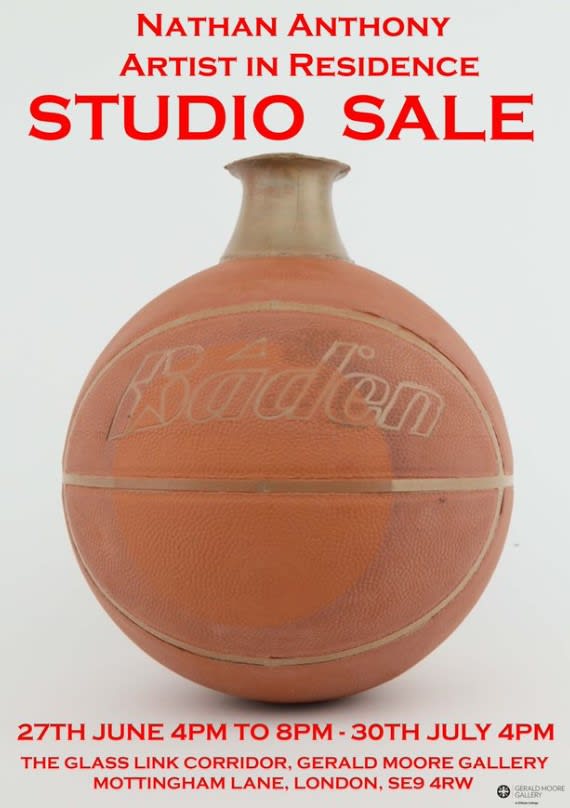 We at Gerald Moore Gallery are delighted to host Nathan Anthony's Studio Sale from 27th June to 30th July 2022 with the preview this evening (Monday) 27th June, 4 - 8pm. Nathan is the current Artist in Residence at Eltham College. Also happening this evening is the Preview for the A-Level Art Exhibition.
Nathan's artworks on display are a selection of pieces that he has produced since September 2019, when he started his residency at Eltham College, as well as some objects that date from before this time. Over this period, Nathan has amassed quite a collection and the intention of this sale is to hopefully clear some of his back catalogue before moving on, whilst also raising funds for exciting future projects. Many of the works were produced as a series so feel free to consult the full works list for further examples and iterations of what is already on view.
By acquiring Nathan's pieces, you would be supporting the artist and outreach-focused programme at Gerald Moore Gallery and more importantly the practice of a deserving emerging artist.
Nathan Anthony completed a joint MA (Hons) in Fine Art & Art History at Edinburgh University in 2014 and is a current participant on the inaugural MASS offsite programme. He was included in the 2016 - 2017 Jerwood Drawing Prize, and had a solo exhibition at Generator Projects, Dundee in 2017. He was Artist in Residence at Christ's Hospital School, West Sussex from 2017 - 2019, and has been Artist in Residence at Eltham College in London since September 2019, where he made an exhibition of artwork called 'Muscled Memory' at the school's Gerald Moore Gallery in the summer of 2021. His work utilises sculpture, print and moving-image to hotwire, hijack and divert the conventional associations of everyday objects and materials for poetic reconsideration.
Many thanks in advance for your support!